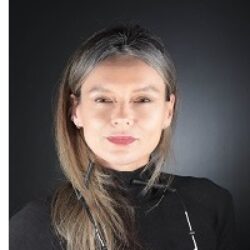 MSc, Lic Odont (UCM-Madrid/Spain)
PGCert Aesthetic Dentistry (UK)
Beatrice is a Restorative Dentist with main interest in minimally invasive Aesthetic Dentistry, implementing Biomimetic principles.
After spending her childhood between the USA and Spain, Beatrice graduated in Dentistry at the University of Madrid-UCM (Madrid-Spain). She completed a MSc in Pedodontics at the same University while working as a restorative dentist, focusing her interest in both Aesthetic Dentistry and Pedodontics, with main focus on space management.
In addition, she lectured at the UCM (Spain) to MSc students and was a clinical instructor at the postgraduate course in Pedodontics (MScPed). Her academic work allowed her to deliver lectures, including the presentation of posters at different dentistry congresses in Spain.
Since moving to the UK in 2008, Beatrice has focused her work as a restorative dentist with special interest in Aesthetic Dentistry and space management with Invisalign clear aligners system.
Being passionate about her work, Beatrice has a strong artistic feel, and strives to provide excellence in her work, with superb care, ensuring a relaxed and friendly environment while creating beautiful, natural looking smiles. Her main drive is to provide excellence in her work, while aiming to be minimally invasive.
"I have the privilege of absolutely loving what I do, meeting so many people, engaging with them, understanding their needs and expectations, and delivering superb quality dental treatment whilst having the best of fun with the team. Without a doubt, the favourite part of my job is the emotional aspect, I feel extra special to have such a huge impact on patients' lives, boosting their confidence by providing them with a beautiful smile"