Put more into your membership and get more in return…
The British Academy of Cosmetic Dentistry is committed to promoting the practice of quality cosmetic dentistry, and has introduced credentials to allow its members to demonstrate that they have reached an agreed level of ability. This process has been designed by UK practitioners for UK dentists and technicians and therefore will be reflective of the way in which cosmetic dentistry is practiced in the UK.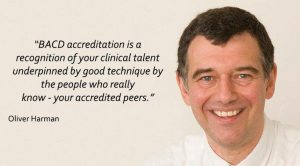 Accreditation Explained
Are you considering Accreditation or are you already in the process?
You can submit your cases any time during the year, all submissions are marked remotely.
The process has been designed to allow dentists and technicians to demonstrate that they have the ability to diagnose, plan and execute cosmetic treatment of the highest standard, and that this can be done safely, ethically and competently.
Accreditation involves the anonymous submission of clinical cases of before and after pictures, showing cases which have been prepared by the candidate working independently. When these have all been passed, there will be a Viva examination where candidates will be asked to produce a treatment plan following a diagnosis and answer questions from examiners about treatment methods chosen and materials used.
Candidates who successfully complete the exam will receive an Accreditation Plaque, allowing them to state that they are an "Accredited Member of the British Academy of Cosmetic Dentistry".
The accreditation process is administered by the BACD Central Office and examiners are drawn from Accredited BACD members.
Please scroll down this page and you can download the Protocol and other useful documentation, including case marking sheets