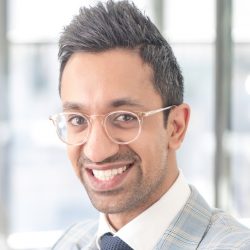 BDS(Lon) MFDS RCS (Edin) PgDip ClinEd
Dr Jethwa is a qualified clinical teacher with a Postgraduate Diploma in clinical education. Sam has published articles on smile design, functional success, and is passionate about imparting his knowledge to ensure more dentists have the skill set to treat the worn dentition and aesthetic case with total confidence. Dr Jethwa founded the Bespoke Smile Academy, which provides hands on training to dentists in the UK and internationally, on the topic of smile design, occlusion, and the methods of creating natural, predictable smiles, with a strong focus on minimal and no preparation porcelain techniques.
Sam practices at the renowned Perfect Smile Studios, and at Bespoke Smile, and focusses his dentistry on ultra-thin porcelain restorations and advanced rehabilitative cases alongside his work as Key Opinion Leader for DMG Dental Materials. Sam sits on the board of directors at The British Academy of Cosmetic Dentistry and is Director of Communications at the academy. Sam shares his knowledge on social media as one of the most prominent dentists in the UK on Instagram and takes pride in his work with young dentists to promote good practice, and high-quality dentistry through the power of social media, and received the Fast Track 4 award in recognition of his continued efforts.