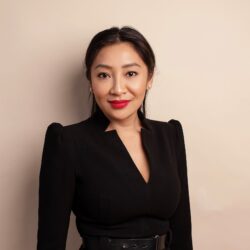 Dr. Sheila Li is a multi-award-winning cosmetic dentist with a special interest in Aesthetic Medicine. She qualified as a dentist from King's College London and holds a first-class honours degree in Biomedical Sciences. She has also been awarded a Masters in Aesthetic Medicine from Queen Mary University of London.
Sheila is the managing partner and one of the lead trainers at The London Academy of Aesthetic Medicine and over the last 5 years, has delivered non-surgical injectables training to more than 500 doctors, surgeons, dentists & nurses. She is passionate about raising the standards in the practice of safe and ethical facial aesthetics and is a mentor to dentists wishing to incorporate facial aesthetics into their daily practice. Sheila has more than 7 years experience in aesthetics and practices facial aesthetics at Advanced Dental Practice and Dr Leah Clinics as well as Aesthetics Lab where she is the medical director.
Sheila is passionate about Aesthetic Medicine. As a full member of the British Academy of Cosmetic Dentistry, she also sits on two committees, actively promoting excellence, ethical practice, and education in cosmetic dentistry. She takes great pride in delivering high-quality ethical treatment and training, dedicating a tremendous amount of her time to continuous lifelong learning by attending masterclasses and conferences both nationally and internationally, renewing her expertise to deliver the safest, most up-to-date and evidence-based techniques to her patients.
Sheila Nguyen BDS (Lond), BSc(Hons)
Cosmetic Dentist & Advanced Facial Aesthetics Practitioner
Advanced aesthetics trainer: The London Academy of Aesthetic Medicine
Medical Director, Beyond MediSpa Harvey Nichols
https://www.instagram.com/dr.sheila/
https://www.drsheila.co.uk
https://m.facebook.com/RenuyuClinics/