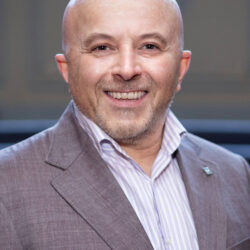 Dentist and published author Dr Neil Gerrard leads a small, dedicated team as part of an award-winning practice committed to clinical excellence and exceptional customer service.
Neil is the only dentist in the Southwest and one of only three dentists nationally to have achieved Fellowship status with the British Academy of Cosmetic Dentistry (BACD). BACD Fellowship recognises the advanced level and skill required to create the very best smiles possible. He also serves as an BACD Accreditation Examiner.
He is also uniquely dual qualified as a cosmetic and implant dental technician.
Neil's area of special interest is in advanced cosmetic dentistry and complex smile reconstruction with dental implants. His advanced training in Smile Design has enabled him to become a member of many top dental institutions. To maintain his position as one of the country's leading cosmetic dentists Neil completes over one hundred hours of advanced training every year in the fields of cosmetic and implant dentistry.
Possessing this extensive understanding of the complete smile enhancement process enables Neil to enhance his patients' smile to the highest possible standards and Fellow member and examiner with the British Academy of Cosmetic Dentistry (BACD).
Neil helps to educate dentists, dental technicians and team members in the art and science of cosmetic dentistry.