Join the BACD Brand Ambassadors programme!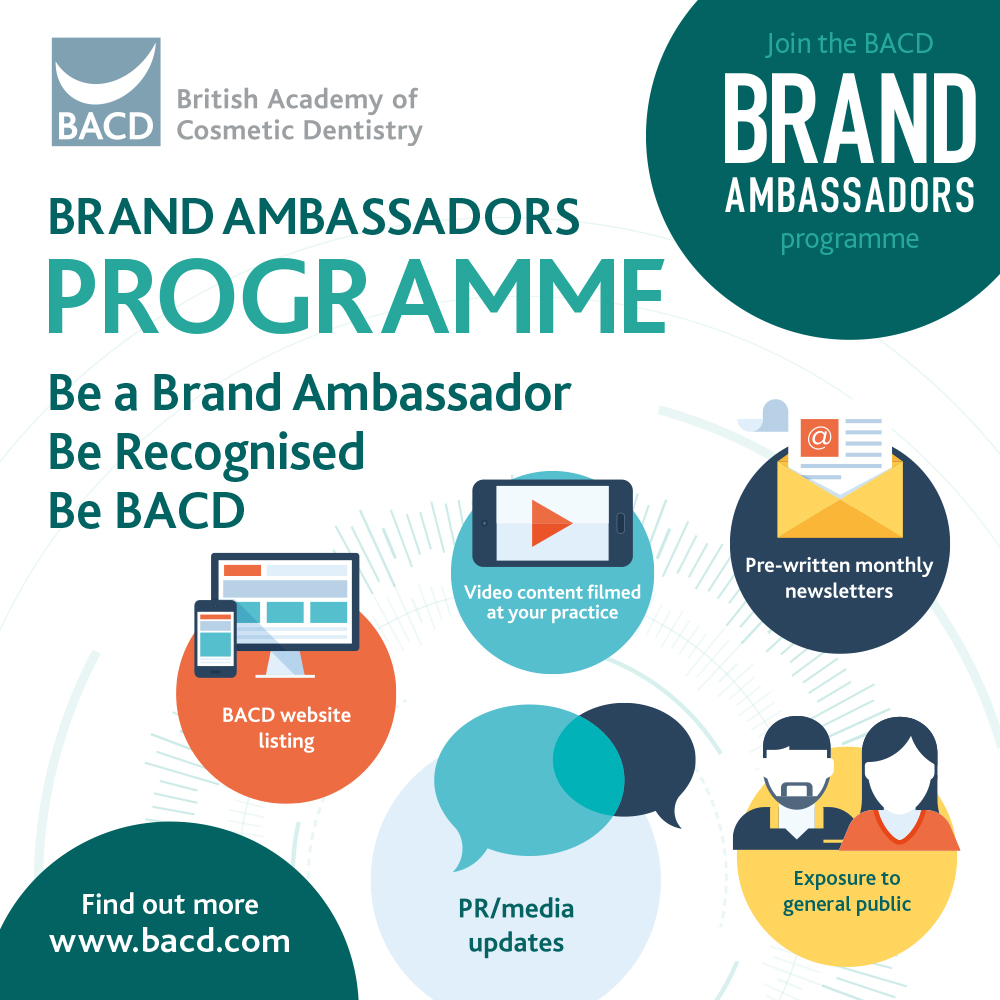 What is it?
The Brand Ambassador Programme is about the BACD giving something back to all our members. There are two levels – Silver which is open to all members, and Gold which is an enhanced support programme to those who give up their time and energy into the development of the Academy. By utilising our close links with National media and PR companies, we have developed a pathway to help profile you, and the BACD to your patients and local community.
Aim:
The BACD is very well recognised as a UK leading authority on cosmetic dentistry by both our profession and by the media. However, the general public are not very aware of who we are. We all know that cosmetic dentistry should not be provided by dentists with little or no understanding of the aesthetic fundamentals, but the public are not. To this end we are now working with media and PR companies to actively raise that same recognition with the general public. By working together, we can raise the awareness of the BACD and educate the public that if they want cosmetic dentistry done they should be seeking out a BACD member. Our ultimate goal is that every patient looking for cosmetic work will seek out a BACD member first!
How it works:
Silver Level Brand Ambassador:
This is open to every BACD member. We will:
– Provide you with written media content every so often that has been hand selected and drafted by our media and PR companies to have maximum impact. The content will promote the BACD and you as the local BACD dentist. You can use this as your website blog, a social media post, however you wish to use the content.
– We will forward you a list of all items dental related so you can pick and choose what to use. It basically helps you with content for your social platforms.
– Provide you a duffer's guide to increase your social media presence.
– If you are a full member or above you will receive an engraved plaque from BACD membership that you can hang up in your practice to promote yourself as a BACD dentist.
Gold Level Brand Ambassador:
We recognise that some members do a lot for the BACD, and we feel we should reward this commitment. The Gold Level is available to:
– All past Presidents
– All current Board members
– All Accredited members for first two years after accreditation
– Accredited members who remain active on committees
– All current Committee Members who have been in the position for more than 1 year
For the Gold Level we will:
– Do everything in Silver
– Help you create links with your local media and help you establish relationships with them so that you become the go-to contact for anything cosmetic dental related in your area. You will be supplied with ongoing content for this as well.
– Promote you within the BACD media channels to dentists and to patients.
– Have a professional video made of you for promotion through BACD media channels, and for your own personal use.
– Have a preferred position on the BACD find a dentist website.
Interested in finding out more?  CLICK HERE to email us