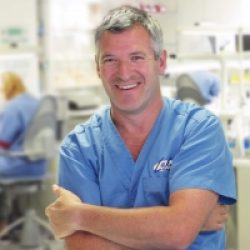 Luke Barnett started his career in technical dentistry in 1976 and after qualifying took a special interest in dental ceramics, setting up his own business in 1985. Luke and his team have established themselves as one of the UK's most influential ceramic specialists working from his state of the art facility in Watford, Herts. Luke is also an owner of the Precision Coping Company. In 2014, Luke launched The Clinic – a peripatetic centre of excellence for clinicians to use on a session by session basis.
Luke is on the editorial board of Dental Technician, Private Dentistry, www.dentistry.co.uk and Luke is also a member of the British Academy of Cosmetic Dentistry (BACD). He was the first technician to achieve the levels of excellence required to obtain BACD Accreditation and sits on the accreditation board of examiners. He is a judge for the Aesthetic Dentistry Awards and is also a member of the American Academy of Cosmetic Dentistry.
His laboratory was voted Private Dentistry Laboratory of the Year in 2010 and 2011 and he is now a member of the Private Dentistry Awards judging panel.