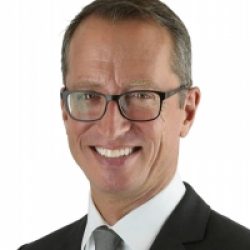 Dr. Markus B. Blatz is Professor of Restorative Dentistry and Chairman of the Department of Preventive and Restorative Sciences at the University of Pennsylvania School of Dental Medicine in Philadelphia, Pennsylvania, where he also founded the Penn Dental Medicine CAD/CAM Ceramic Center. Dr. Blatz graduated from Albert-Ludwigs University in Freiburg, Germany, and was awarded additional Doctorate Degrees, a Postgraduate Certificate in Prosthodontics, and, most recently, Professorship from the same University.
Dr. Blatz is co-founder and President of the International Academy for Adhesive Dentistry (IAAD). He is a Board-certified Diplomat in the German Society for Prosthodontics and Biomaterials (DGPro) and a member of multiple other professional organizations, including the European Academy of Esthetic Dentistry, the American College of Prosthodontics, Academy of Osseointegration, and O.K.U. Honor Dental Society. He serves on the editorial boards of numerous recognized scientific dental journals and is Associate Editor of Quintessence International as well as coauthor of the international bestseller "evolution – contemporary protocols for anterior single-tooth implants". Dr. Blatz is the recipient of multiple teaching and research awards and has published and lectured
extensively on dental esthetics, restorative materials, and implant dentistry.