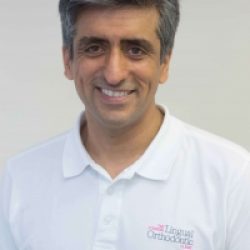 BSc, BDS, FDS RCS (Eng), MSc., MOrth RCS (Eng)
Specialist in Orthodontics GDC No 69682
Among UK-trained orthodontists, I am the only specialist to be accredited by both the European Society of Lingual Orthodontics and the World Society of Lingual Orthodontics. I enjoy speaking at orthodontic conferences at home and internationally.
I am the author of a chapter on 'Interdisciplinary Treatment with Lingual Orthodontics' in the book Esthetics in Lingual Orthodontics (Quintessence Publishing).
I qualified as a Dentist from King's College, London in 1993. Following vocational training and experience in the Hospital service, I gained my Master's Degree in Orthodontics at GKT Dental Institute, London. I received specialist training in Lingual Orthodontics in Paris in 2002. I have a keen interest in the multidisciplinary treatment of adult patients.
I am a member of the following orthodontic and dental societies:
Founding member of the British Lingual Orthodontic Society
Accredited member and Secretary of the European Society of Lingual Orthodontics
Accredited member of the World Society of Lingual Orthodontics
Fellow in Dental Surgery of the Royal College of Surgeons of England
Fellow of the World Federation of Orthodontics
British Orthodontic Society
European Orthodontic Society
American Association of Orthodontists
Past President of London Dental Fellowship (2014 – 2015)
Member of the British Academy of Cosmetic Dentistry and British Dental Association