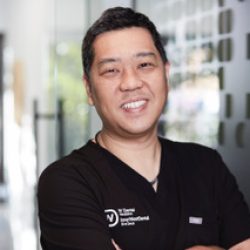 Dr Anthony Mak graduated with multiple awards from the University of Sydney in 2002. He then
went on to complete his Post Graduate Diploma in Clinical Dentistry (Oral Implants).
Dr Mak is one of Australia's most sought after speaker, especially in the field of digital and
restorative dentistry. He has lectured extensively in Australia, New Zealand and across Asia; and his
hands-on workshops have gained such popularity that they are almost always booked out soon after
registrations open. He is also gaining great popularity on the European and US circuit.
Anthony is the author of two compelling compendiums detailing direct composite and indirect
ceramic restorations, the clinical photography and documentations can only be described as
exceptional. He has published numerous case studies and articles for local and international dental
bodies, associations and the peer reviewed Australian Dental Journal.
Anthony's interest lies in dental technologies, advances in materials and techniques; and he has a
unique understanding of CAD-CAM digital dentistry.
Anthony runs two practices in metropolitan Sydney, focusing on quality modern comprehensive
care, including aesthetic and implant dentistry. He is also a clinical consultant and key opinion leader
for several global dental companies focusing on development of new dental technologies.