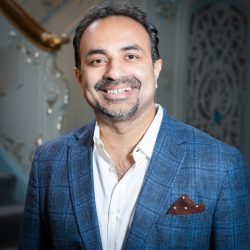 Director of Trade and Industry
Dr Shameek Popat qualified from Guy's Hospital in 1993 and obtained his MFGDP from the Royal College of Surgeons in 1998. Over the last 25 years, Dr Shameek Popat has worked hard to build upon his knowledge, his experience, his skills and his reputation to be one of the most outstanding and highly respected Private Dentists in the UK. This has been recognised by the dental community as Dr Popat was the proud recipient of one of many awards including the "Private Dentist of the Year" award at The Private Dentistry Awards 2010.
He is dedicated to furthering his dental knowledge and has completed the Aesthetic Advantage Course in London and New York, the Higher Restorative course with Dr Harry Sidelsky, Implant course at St Ann's in Manchester, but more impressively he is one of only a few UK dentists to have graduated from the world-renowned Dental Centre of Excellence – The Kois Center in Seattle. He was the second dentist from the UK to become a mentor at the Kois Center. He has consequently contributed to the introduction of the first-ever exclusive Kois Study Group in the UK and is part of the Activity Committee at the Kois Center.
Dr Popat is a professional with drive, passion and commitment to dentistry. However, integrity is important to him and his desire to support good causes has led him to trek the highest mountain in Africa, Mount Toubkel for Dentaid; to race around Europe in an old banger rally to raise money for a children's charity called Healing Little Hearts; to financially support a week-long eye camp in India to conduct as many cataract operations as possible in a makeshift hospital and also to build a water well in a remote village in Africa for the villagers to use.
​Dr Popat is married with three children and in his spare time he enjoys reading, cricket, football, and supports Liverpool Football Club.